Erecting the Quadriga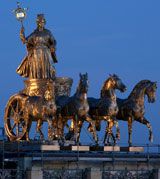 From 2004 to 2008 the Quadriga was created anew for the rebuilt Ducal Palace of Braunschweig. On 23 October 2008 the new, third Quadriga again has taken its original place on Braunschweig´s Palace.
Braunschweig´s palace, the Ducal Palace of the House of Welf, has been reconstructed on the basis of old drawings and historical photographs and in 2007 it has been rebuilt in its original size and historical location using more than 600 original parts. The crowning finale will be the erection of the Quadriga –the godess Brunonia leading a four-horse chariot group- on the portico.
The Quadriga measures more than 9 meters in height, 7.5 meters in width and 9.5 meters in length. It has been cast by a traditional bronze casting manufacturer in Komorniki (Poland) according to the original moulds of the sculptor Ernst Rietschel using silica bronze.
To the webcam...
Viewing of the Quadriga

Visitors are able to view the Quadriga close up for a small fee.